The following is a guest post from our friends at Help Advisors Reviews.
For smaller rooms, a space heater is a good option.
Not only do electric space heaters provide instant heat, but today's models are also super energy efficient. Instead of cranking up your thermostat, a space heater is a convenient way to stay warm & save money!
Modern space heaters offer cool features too:
adjustable temp, auto shutoff, lots of power levels, timer controls
Below is a top list of the best space heaters for home.
Portable electric heater prices range, $79 – $219.
Dr Heater DR998 Review
Vornado Vortex Space Heater
Lasko Bathroom Space Heater
Dr Heater DR-978 Review
Duraflame Electric Fireplace
Lasko 1500W Space Heater
Wiland Home Space Heater
Vornadobaby Baby Room Heater
Dyson Space Heater Review
Honeywell Ceramic Space Heater
---
1. Dr Heater DR998 Heater
The Dr Heater DR998 infrared heater is the best option for heating large rooms – it's a favorite in senior homes and city apartments!
Designed for large rooms, it's a dual space heater which combines infrared and convection heat.
Heating: 1,000 sq. ft.
Pricing: Expensive
As a space heater, it comes w/ dual heating system that combines convection and infrared space heating.
Built-in fan quickly disperses warm air evenly throughout the room – Dr Infrared heater is 60% faster than a typical space heater.
Dr Heater DR998 promises to last multiple years + claims to work 80,000 hours.
Good option for maintaining steady heat in a large room!
---
2. Vornado Vortex Heater
The Vornado Vortex is the best space heater for portability.
Even as a compact floor heater it is powerful enough to heat larger rooms or even offices.
Rooms: Whole Room
Pricing: Medium
What really makes it stand out is the "Vortex Action" and Climate Control.
Vortex action evenly distributes warm air throughout the room — paired w/ the climate-control feature, your room will have a steady temp.
Super lightweight at 5 pounds makes it a solid portable heating option.
Lots of happy buyer reviews online.
---
3. Lasko Small Space Heater
Lasko CD08200 is the best bathroom space heater (or small rooms).
Originally designed for cold bathrooms, is popular as a bedroom or city apartment heater.
Rooms: 225 sq. ft.
Price: Affordable
Small space heater it weighs only 3.8 pounds. Very portable for home use.
Its small size and weight also make it versatile – buyers say it sits nicely on a table, office desk, or bedside floor.
Lasko CD08200 is also a safe space heater w/ overheat protection and self-regulating heat.
---
4. Dr Infrared DR-978 Review
The Dr Heater DR-978 is a dual heating hybrid space heater.
As a 1500W infrared heater it can be controlled with the remote control or LED control panel.
Heating: 1,000 sq. ft.
Pricing: Expensive
One of the newer models, the Dr Infrared DR-978 heater is high powered w/ low noise – ideal for bedrooms, living rooms, and home offices.
Buyer love the ability to set their desired temp – Dr Infrared heater includes a thermostat and will auto adjust its power level.
Safety features include tip-over and overheat triggers.
Good price and positive buyer reviews.
---
5. Duraflame Electric Fireplace Heater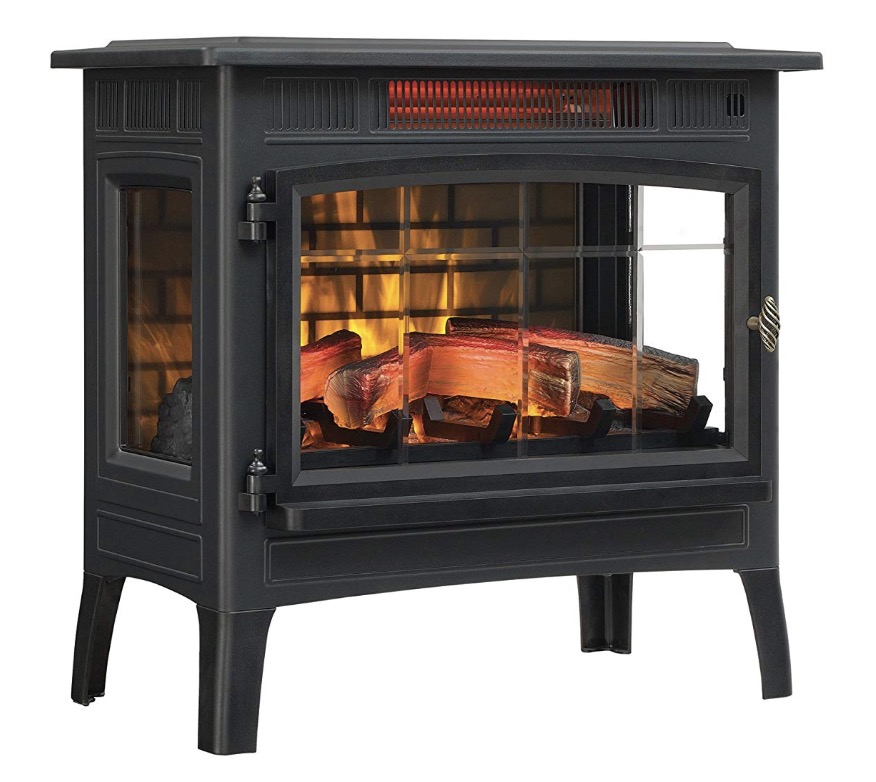 Duraflame fireplace infrared heater is a super powerful option.
It uses infrared quartz heat for maintaining natural humidity, making it easier to breathe.
Room Size: 1000 sq. ft.
Pricing: Medium
Duraflame electric fireplace heater includes an adjustable thermostat so you can set your desired temperature.
Buyers like the aesthetic of it too – the 3D flame gives a realistic look, while being fully electric.
It also includes overheat protection for safety.
Expensive space heater, but one of the most popular online.